How to Make a Demo Tape
I'm going to tell you the basics of how to create your own demo tape, things you should consider, like track length, how many tracks to use, and what to do about your demo cover. These are a few pointers that will put you ahead of the game when competing against the thousands of striving musicians for gig's and record deals.
Time
Record label executives receive thousands of demos, and do not have time to listen to a full length 12 song, 60min+ album. Keep your tracks to a minimum, three to four songs will be enough to showcase your style of music. In addition your songs should be under 5 min in length. This is the rough time of a radio edit, if your get signed, or get a gig from your demo you can always create an extended mix. Your demo is simply to grab the attention of a record executive or a bar owner, and if your lucky enough to grab 12 minutes of there time, it would give you better chances if the listen to a few of your songs instead of one long one.
Live vs. Studio Recordings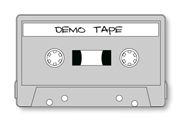 Choosing whether to submit a live recording or a studio recording will depend on who your sending it to. A night club owner will be interested in how well your band can play live because that is what they will be hiring you to do, is to play live. Not to say that you can't use studio recordings on your demo, just make sure to put at least one live recording on your demo tape, if you are using it to secure a gig.
Demo Tape Covers
Obviously your demo tape cover can play a huge role in whether or not your demo will get listened to. If you can visually intrigue someone by your cover they will be more curious to find out what is on the CD. Check out our article on "CD cover design" to get a few hints
These points are simply to give you an idea on how you should go about producing your demo, if you are needing some information about how to record your music, and or vocals by using a home PC you may want to read "How to Set Up and Record Vocals". This article explains the basics of PC recording, including some tips to achieve a great sound from your raw recordings.
Good luck with your demo tape, and once its finished duplicate it, and distribute it through any avenue you can. You never know what third party may end up listening to it, just remember all it takes is some good tunes, and the right combination of people who like it, for you to land the gig/record deal that you are looking for.